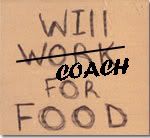 Tom Bradley has been coaching at Penn State for 31 years.  During that time, he has climbed the ranks from Graduate Assistant all the way up to his current position of Defensive Coordinator.  His units have routinely ranked in the Top 10s of important defensive statistics.  He has overseen plenty of NFL talent on the defensive side of the ball, and was responsible for recruiting some of Penn State's best players during his tenure. 
The only question about Bradley's ability as a coach is to what degree he is hampered by Joe Paterno's conservative nature.  If the man affectionately known as "Scrap" had total autonomy, would he craft a more aggressive strategy? Is there more to his repertoire than the infrequently blitzing, vanilla scheme that drives Penn State fans nuts?  Until he gets out from under Joe's shadow, we may never know.
And that is the problem.  Scrap can't seem to land that elusive head coaching job.  Why is that?  Well, here are a few theories…
Reason #1:  Tom got interview advice from Ed DeChellis.
Here's an excerpt of a chapter titled "Interviewing Advice" from Ed's soon-to-be-published self-help book titled, How to Land that Job You Have Absolutely No Business Having.
Fortunately for me, I have a job that I will never be fired from, so I don't have to worry about interviewing ever again.  Since I am so blessed, I feel safe divulging my secrets to land that dream job. 

1.  Stride into the room with confidence.
2.  Place your inadequate resume on the table in front of the interviewer.
3.  Say "I graduated from Penn State" 

Then before you can say "and I'll work for cheap," you'll have a contract totally unbecoming of your qualifications. 
Reason #2:  Tom let Jay Paterno write a letter of reference. 
The first warning sign should have been the crayon-scribbled, ripped notebook paper that said letter came on.  Upon further reading, that's not even the worst part. 
Jay writes: "And you should hire Tommy because he always shuts me out when we play NCAA Football 1975.  (Dad won't allow any newer games in the house)  Tommy plays this confusing 4-3 defense that I can't ever gain any yards on.  I even called Galen for help, but he fell asleep on the phone."

 As a kicker, Jay added: "PS.  Jerry Sandusky, Fran Ganter, Tom Bradley.  You guys wanna hire Ron Vanderlinden or Larry Johnson too?"
Reason #3:  Tom's travel is restricted. 
Wonder why Tom didn't interview for the UConn job?  Simple- much like in recruiting, he wasn't allowed to leave the state of Pennsylvania.  Why bother casting a large net in hopes of catching some big fish when you have a reasonable trout pond in your backyard? 
If Penn State can land defensive standout Ishaq Williams this week, it will cap a late recruiting surge that is uncommon for a team whose head coach notoriously avoids the job requirement hassle in-house visits.     
However, a program with the resources and tradition of Penn State is doing itself a great disservice by refusing to expand its recruiting base.  In a down year talent-wise in our annual stomping grounds, it would be nice to have the luxury of other fertile regions to recruit successfully. 
Now Tom is bearing the brunt of this self-imposed lockdown.  No wonder he only interviewed at Temple and Pitt.  No one ever gave him a map to leave the state.
Reason #4:  Tom is holding out for his dream job. 
Tom has been sandbagging.  He's biding his time as a coordinator until he has enough money saved up to open his dream business: "Scrap's Caps."
Just last year, Tom received a patent for his "Cover-2" hat, which employs a stitching technology that makes it possible for Siamese twins to wear a single cap. 
Scrap's Caps uses a wool-stretch fabric that Tom guarantees will "bend, but not break."
So, no one should be surprised that the football coaching staff will remain intact this offseason.  A "new era" isn't coming any time soon.  But Tom will always be in State College, making his mark on students one way or another.  My hat's off to you, Scrap!
Enjoy this post? Follow me on Twitter for instant updates @RowlffDogg