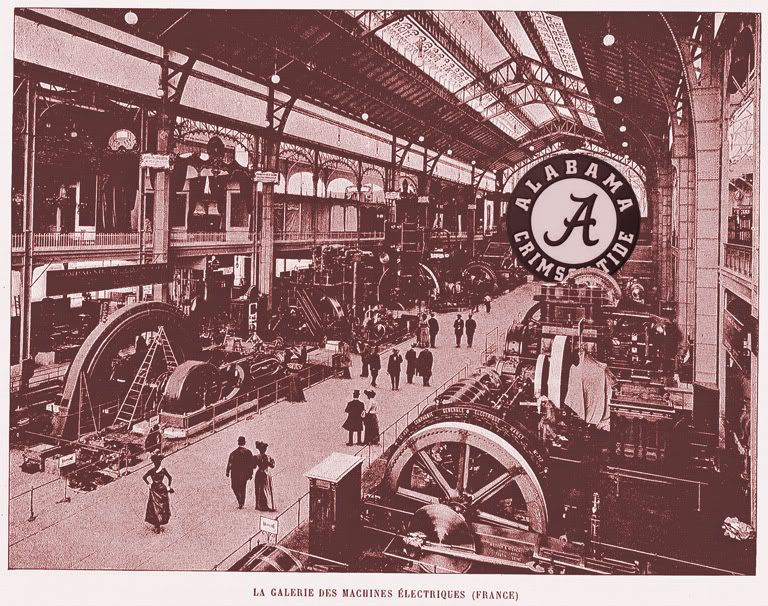 "Then he showed his scholar the great hall of dynamos, and explained how little he knew about electricity or force of any kind, even of his own special sun, which spouted heat in inconceivable volume."
We have recognized an unfamiliar sensation in our midst. Instead of hate, we feel defeated before the week is begun. Something we can scarcely understand as appeared before us, like Neanderthals running the wing-T while staring at a comet streaking through the sky. This passing marvel, gracing the heavens, is Alabama Crimson Tide football.
Hate will not suffice. How can we hate when we do not understand? We only know that it is our duty to fall prostrate before the altar of Crimson Tide football—we the willing sacrifice under the merciful eye of Nick Saban.
Our Hate(?) Week literary source this week is "The Education of Henry Adams." In 2000 it was declared the #1 English-language nonfiction books of the twentieth century.* Nothing but #1 will suit like likes of Alabama Crimson Tide football.
*The greatest book of the 21st century is obviously "How Good Do You Want to Be?" by Nick Saban. Saban is looking at grayshirting the years 1930-1940 to get the book back under the 20th century cap.
The Dynamo
Let us be clear, to view this as an opportunity for hate would be foolhardy. We can only wander like Henry Adams in the Hall of the Dynamoes, bewildered and amazed at the power of the SEC.
As an example, let's look at recruiting. Penn State has had a fairly successful summer, finding some quality recruits from places like New England and the Mountain West. Still, can we honestly conceive of what it would be like to get an Alabama recruit? The mind would likely explode! Just look at what Henry Adams wrote about the recruits Saban has locked down:
Pros:

"The planet itself seemed less impressive, in its old-fashioned, deliberate, annual or daily revolution, than this huge wheel, revolving within arm's length at some vertiginous speed, and barely murmuring — scarcely humming an audible warning to stand a hair's-breadth further for respect of power — while it would not wake the baby lying close against its frame. Before the end, one began to pray to it; inherited instinct taught the natural expression of man before silent and infinite force."

Cons: none.

Julio J. Hutson, WR 5 stars, 6'4", 225 lbs

Opelika East HS

Opelika, AL
Pros:

"He had entered a world in which he could measure nothing except by chance collisions of movements imperceptible to his senses, perhaps even imperceptible to his instruments, but perceptible to each other, and so to some known ray at the end of the scale. They were a revelation of mysterious energy like that of the Cross; they were what, in terms of mediaeval science, were called immediate modes of the divine substance."

Cons: none.

Cyrus Hanna, OL

5 stars, 6'7", 320

Daphne Hoover HS

Prattville, AL
Pros:

"The mere sequence of time was artificial, and the sequence of thought was chaos, he turned at last to the sequence of force; and thus it happened that, after ten years' pursuit, he found himself lying in the Gallery of Machines, his historical neck broken by the sudden irruption of forces totally new."

Cons: none.

Derrick Bennett-McClain, LB 6 stars, 6'4", 260 lbs

Southview HS

Dothan, AL
This is only scratching the surface of the metaphoric dynamo that are Tide players. How can Penn State compete? We shall only watch helplessly on Saturday before the finest 85 players (whittled from 127) that college football has ever assembled.
The Virgin
Here opened another totally new education, which promised to be by far the most hazardous of all.
It would be sacrilegious to compare Nick Saban with the mother of the Christian savior, but I think we can all agree that he's touched by a higher power. What he brings to our wretched northern land are the twin convictions of achievement and excellence. It's probably why every other word out of his mouth is "achievement" or "excellence." What sounds like the meaningless blather of a charlatan to us in the North are the words of a near-saint to those in the South. We have much to learn.
Let's look at some of his achievements during the lost years of 1991-1993, which Wikipedia erroneously shows him as the defensive coordinator for some crap Cleveland Browns teams. We know this to be untrue; no one this great in the eyes of Crimson Tide fans could fail to be anything but awesome. We at JoePa's Doghouse have discovered what he was in fact doing in these years: working as a CIA operative, functioning as the Head of Government and State for an emerging Central Asian nation, weaning them from backward Soviet-era policies and forging development through wise decision-making, raw charisma, and American know-how.
Let's see some of his achievements and excellence during this time, and what Henry Adams has to say on the man that inspires us today:
Our Most Glorious Śabaň! President 1991-1993

Śabaň Amongst His People

"He never laid down the law, or affected the despot, or became brutalized by the brutalities of his world. He required no incense; he was no egoist; his simplicity of thought was excessive; he could not imitate, or give any form but his own to the creations of his hand. No one felt more strongly than he the strength of other men, but the idea that they could affect him never stirred an image in his mind."

Śabaň Negotiating with Margaret Thatcher

"The symbol was force, as a compass-needle or a triangle was force, as the mechanist might prove by losing it, and nothing could be gained by ignoring their value."

Śabaň clapping with former Apparatchiks

"Great men before great monuments express great truths, provided they are not taken too solemnly."

Śabaň astride a horse in business attire.

"Achievement, excellence, excellence, players, achieve. Herp derp. Derp."
The Abyss of Ignorance/The Height of Knowledge
"Forty-five years of study had proved to be quite futile for the pursuit of power; one controlled no more force in 1900 than in 1850, although the amount of force controlled by society had enormously increased. Science itself had been crowded so close to the edge of the abyss that its attempts to escape were as metaphysical as the leap, while an ignorant old man felt no motive for trying to escape"
What does Penn State have to challenge this dynamic force of college football? Our best weapon is our most maligned. Joe Paterno: a relic of the past that walks (with cane) next to this humming machine; a man who invites reverence but not fear; a man who should stand bewildered, looking to escape the looming threat of a new age.
Yet he feels no motive to escape. Some might confuse it with ignorance, we think it's just a long-held desire to never back down. He wants to win. Although we have our frustrations, we know with Penn State is a man who may appear as a relic but in fact is a man with an insatiable desire to beat this team.
It's been a decade since he surpassed the Bear, years since Bowden retired with his illustrious record held together with the loose scraps of Samford and the bailing wire of NCAA violations. Still he finds the will to win, or at least the will to try to win. So it will happen again on Saturday.
The secret of education still hid itself somewhere behind ignorance, and one fumbled over it as feebly as ever. In such labyrinths, the cane is a force almost more necessary than the legs.
He's been the man who has been tearing down powerhouses for ages, who knows not to be threatened by the next great force, because it will soon be superceded or undone by larger forces. So he walks--with our without a cane--unbewildered and unbowed. It's the same plan as always: get the team to hit hard; get the game on your terms; get the fans will bellow louder than they've done in years. He knows more than anyone what this team, this program, this university is capable of achieving, and because he is a walking powerhouse himself.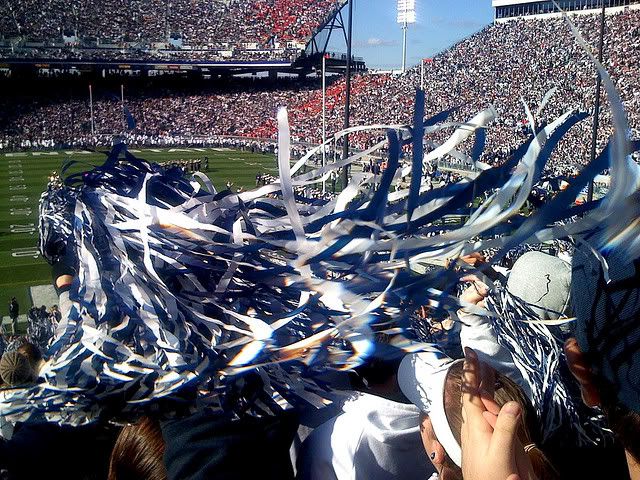 We are a powerhouse in our own minds. We are...