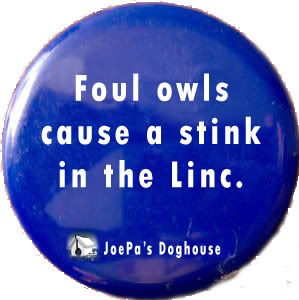 Another big game. Another egg laid by the coaches. Not like we didn't expect it. Sigh. Oh well, best to move on to our big in-state rival! As usual, Adam from Black Shoe Diaries brewed up a cauldron of questions, so be sure to hit up BSD later this week for a "greatest hits" of sorts. In the meantime, check out what these chums are saying:
William World News
Nittany Whiteout
Nittany Lions Den
Follow the jump to get a dogg's perspective…
Question #1 The game was out of reach, but Rob Bolden played through the final whistle. Was that drive his "coming of age moment?" Do you expect that to pay some dividends this week?
The Underdogs: We'll need an entire game for a coming of age moment. Consistency is the biggest thing missing from the offense right now (from a player perspective). It seems there is a 50% chance a pass will be delivered accurately, then a 50% chance it will be caught. We're flipping coins, kinda like the play calling. Do over! Oh wait, shit. Time out.
Rowlff Dogg: On the final drive, Alabama played a very basic defense. Rob Bolden probably recognized it from practicing against Tom Bradley's vanilla scheme. If Joe would have proclaimed him the full-time starter, then I would declare it Joe's "coming of age moment." Aww, Joe's making a 'big boy' decision! But no, let's wait to see something a little more substantial than 1 drive in a meaningless moment of a game.
J Schnauzer: Not really. The only dividends that will arrive is when he (or McGloin) are named the starter, they get the reps with the wide receivers they need, and the team starts to gel offensively. Until then, the offense will be held back by the indecisiveness of the coaching staff. It's a big reason why PSU ranks 118th in passing efficiency right now in spite of the talent.
Question #2 How effective will the defense be against Bernard Pierce this week?strong>
The Underdogs: I have no worries on the defensive side of the ball. Mauti, Hill, and Still are beasts and will give it their all.
Rowlff Dogg: Very effective. I expect Pierce will be around 70 yards, including garbage time.
J Schnauzer: I doubt there are two teams facing each other this week that are more difficult to judge than Penn State and Temple. PSU had a challenge well below and well above anything else they will face this season, and Temple had the easiest possible schedule (Akron & Villanova) to this point. Still, the PSU defense is demonstrably better than they were last year in every facet of the game, and Temple QB Mike Geraldi has been an average QB his entire career. I figure the standard Tom Bradley Cover 2 will work beautifully against Pierce and the Temple offense.
Question #3 Grade the offensive line three weeks into the season. Are they better than you expected them to be?
The Underdogs: Yes and no. They were pretty dreadful against ISU then I thought they played quite well versus Alabama (although I can't bring myself to rewatch). Bama's LBs and DBs could play downhill and outnumber us in the box on every play because we certainly weren't a threat down the field. Bama tried a number of the same blitzes ISU had success with and we managed them much better (again, only from hazy, drunken memory sans sober rewatch).
Rowlff Dogg: For a team that lacked a passing threat, I thought the OLine played quite well. Alabama gave them a lot of looks pre-snap and adjustments right up to the snap. Still, they did a pretty good job against what will probably be their toughest test all year. After 2 games, it averages out to a B. To the follow-up question, I offer a resounding YES. I always expect the OLine to be a trainwreck. Why shouldn't I? We have the same lousy coaches. Therefore, I will always be surprised when they have a decent performance.
J Schnauzer: Aren't we two weeks into the season? Anyway, the o-line had zero sacks and one TFL against the best defense in the country. A lot of that can be attributed to Bolden being much better at throwing the ball away when the blocking broke down, but I must say the OL was far better than I expected. I think they'd be even better if they had the reps with a single QB and let his tendencies and timing become second nature to the guys up front. Again, it's coaching.
Question #4 Bottom line - are we looking at a 'Bama hangover against Temple, or do the Lions pull an Illinois '05-type performance and come out swinging against an overmatched Temple squad?
The Underdogs: Not sure I expect a hangover per se, but rather chronic migraines. I am more worried that we just can't throw the ball and the offense reverts to 03/04 levels of incompetency.
Rowlff Dogg: It's probably somewhere in the middle. Although I think the Vegas line is laughable, I also don't expect a 50 point margin of victory. It would be nice to see Penn State come in to the Linc all pissed off. I don't expect to see a fire in their belly because who would light it? However, I'm not of the opinion that our biggest in-state rival will give us much of a game.
J Schnauzer: The pessimism and doom I've been reading from some PSU folks has me dumbfounded. Penn State will roll over Temple. If they had one QB by now, they would crush them.
Question #5 Prediction?
The Underdogs: 23-13 pillow fight. Defense/special teams outscore Temple and the Offense.
Rowlff Dogg: 34-13, good guys. I smell a Jack Crawford sack/strip/fumble recovery/touchdown somewhere in there too.
J Schnauzer: 31-10 Penn State. 45-7 if PSU had one QB.