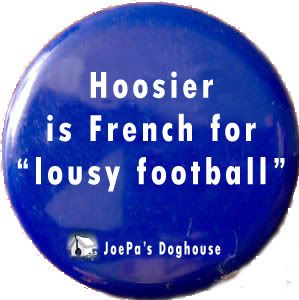 Well, the tune-up games are over. Sort of. Perhaps knowing that Coach Paterno was afraid to make a tough quarterback decision, the Big Ten suits gave us a softball to kick off conference play. Someone who never tosses softballs is our buddy Adam from Black Shoe Diaries. As always, he churned out some questions, so be sure to hit up BSD later this week for a "greatest hits" of sorts. In the meantime, check out what these hosers are saying:
William World News
Nittany Whiteout
Nittany Lions Den
The 50-Yard Lion
Follow the jump to see what the doggs think…
Question #1 Is it worth starting Matt McGloin this week at QB? Will we settle the QB competition this week, or are we destined to see this last throughout the Big Ten schedule?
The Underdogs: At this point, I'm ready to throw my hands up and say why not. It's not like we saw anything we didn't already see. McGloin has the better natural feel for the game, but not the physical assets to do so effectively against the more athletic and better coached defenses when the windows get smaller. He shreds cabbage defenses. Bolden is maddeningly inconsistent. As a friend texted me, "should we just let McGloin start until November?" Not that I necessarily think that should be the approach, but at this point, what difference does it make. mayhaps Bolden needs a bit of a fire lit under him. When did we start treating all of our quarterbacks like babies? /Rhetorical troll gaze...
Rowlff Dogg: We've already wasted 4 games that could've sped up Rob Bolden's development. So, why wouldn't we continue to retard it? We're going to be asking this same question during the offseason while we dodge Bolden transfer rumors. After yet another middling Florida bowl game, you just know Joe Paterno is going to say, "Gee, I wish I had done this…" just like he does every year. Well Joe, NOW is the time to something about the quarterback controversy that YOU created.
If I'm Skylar Mornhinweg, my second question is: are you taking any walk-on QBs this year? (my first question is: Do I really have to listen to Jay???)
J Schnauzer: I thought so. Perhaps this competition can stretch one more week against the last awful team PSU will face. It turns out Temple isn't as bad as assumed. If McGloin struggles against good defenses, then it must be explained how he went 13 for 19 against a Temple team that is a top 10 passing defense and scoring defense.
Let's go back to Temple: on drives that McGloin threw the ball, there was a TD, a PSU drive into FG range with 37 seconds, two punts largely due to long distance after a holding call, a punt after Redd couldn't convert a 3rd & 2. The biggest concern I had with McGloin last year was his propensity to lose games where Penn State had the lead. Four games in and he's not had an interception or a fumble. Not great, but not horrible either. Again, he didn't lose the game, therefore I'm leaning towards the current scholarship player Matt McGloin.
Question #2 Penn State is deep at linebacker, but Mike Mauti was one of the best players on the field. How much will his absence impact this defense? Can Nate Stupar keep up the frenetic pace he set last week in Mauti's absence?
The Underdogs: Stupar is a bit like McGloin. Good effort guy, but a bit overmatched versus the top teams. If you don't believe me, pop in the Iowa 09 tape and watch them run right at him the moment they knew Lee and Bowman weren't there. Speaking of Sean Lee, punch that kid's ticket to Hawaii. Or wherever the hell they play the Pro Bowl these days.
Rowlff Dogg: From a game-to-game standpoint, I don't think the linebacking play drops off much at all. Nate Stupar is not a significant step down from Mike Mauti talent-wise. However, Mauti will be sorely missed when we're facing a big 3rd down late in a tight game against a tough Big Ten foe. Mauti's passion is what will be missed the most. He was the heart and soul of the defense. It will be very interesting to see who steps up and fills the leadership void.
J Schnauzer: It could be a decent story if Mauti becomes head cheerleader/coach on the sideline. Goodness knows PSU needs more coaches on the sidelines and not in the booth. Stupar will not be as good, but it's a very tall order to match up with Mauti.
Question #3 Let's turn to Indiana. Highly regarded assistant coach takes over a struggling, low-tradition program. Is Kevin Wilson the guy to turn it around? Shouldn't they be at least a little better than they've looked this year?
The Underdogs: Too early to tell. Who knows what Wilson thought when he took over the job and saw the puddle of diarrhea he had to work with. He at least hoped for something solid he could mold into a semblance of a shape. Chances are he's rebuilding them from top to bottom and that usually means a rough first year. Except, Indiana's limitation has always been their ceiling and it remains to be seen if he is able to raise it.
Rowlff Dogg: I loved the Kevin Wilson hire from the get-go. His offense is the type of entertaining product that a perennial loser like Indiana needs. Landing Gunner Kiel was enormous. He's the type of recruit that should help sell the Hoosiers to other kids who might not have looked at Bloomington seriously. If Wilson can get some decent talent, I think he could raise Indiana from the cellar into a middle-of-the-pack team.
J Schnauzer: I knew they were bad, but I thought they at least had a pulse. Kevin Wilson has the pedigree, the facilities, and the support of the AD behind him. Give him two years to establish an offense and four years to establish a defense. I'm convinced this team will finally turn the corner.
Question #4 Pick one - Dukes or Beachum.
The Underdogs: Why? Yet another case of one being the more natural football player versus the more talented, higher ceiling player. Why do we have so many of these? I suppose because we have to go looking under rocks for players not already picked over by other schools.
Rowlff Dogg: Curtis Dukes. Our tailgate has a connection* to Dukes, so it is in our best interest to see him succeed. (*- nothing that's an NCAA violation, I swear)
J Schnauzer: I shouldn't be the one choosing, the coaches should. They don't. It's infuriating.
Question #5 Prediction?
The Underdogs: 23-10.
Rowlff Dogg: PSU 29-14. Indiana scores a fluky touchdown somewhat early to make it feel closer than it actually is. And in the upset of the day, the PSU receivers have ZERO drops.
J Schnauzer: Penn State 42, Indiana 10.