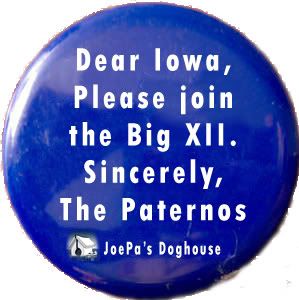 Oh no, not this team again. Yup, that's right, it's Iowa week. You know who loves this week? Kirk Ferentz and his coaching staff. Because they don't need to study film or develop a gameplan. Sigh.
Someone who always has a gameplan is good ol' Adam from Black Shoe Diaries. As always, he banged out some questions, so be sure to hit up BSD later this week for a "greatest hits" of sorts. In the meantime, check out what these Iowa haterz are saying:
William World News
Nittany Whiteout
Nittany Lions Den
The 50-Yard Lion
Follow the jump to read the opinions of some angry doggs…
Question #1 Are we about to see the second coming of the 6-4 spectacular?
The Underdogs: Nothing can be that bad can it? Oh wait... SEC SEC SEC
Rowlff Dogg: Mrs Rowlff Dogg missed the 6-4 game and won't be there for this game. She also has a strange ability to miss safeties, so I predict we will see at least one. Iowa's passing attack is too good to not exploit the holes in our soft zone. In typical fashion, once the Hawkeyes score a touchdown, we'll play with our tails between our legs. Therefore, no, it will not be a 6-4 snoozefest. But it won't be significantly more entertaining than that.
J Schnauzer: No. It will be the '87 Fiesta Bowl when the Hawkeyes have the ball. It will be 22 random guys flailing about with an inflated leather ball when Penn State has the ball. Half a football-like substance is better than nothing at all.
Question #2 Most misleading statistic ever - Penn State gained over 400 yards against Indiana. What can they do to put the ball in the endzone this week against the Hawkeyes?
The Underdogs: Have more physical receivers. Or receivers that play more physically and make some tough catches. Also, some consistency out of the QB position and zero OLine penalties in the red zone might help.
Rowlff Dogg: An offensive line that can actually knock people off the line of scrimmage would be a good start (fire Anderson and Kenney). Using your personnel to take advantage of their skill sets wouldn't hurt (fire Hall, Paterno, Paterno). Sprinkle in a little creativity (wake up Hall, fire him again). And maybe a few clumsy Iowa defenders (keep the turf guys, they do an excellent job).
J Schnauzer: I don't know about misleading. The yardage was real, but 4 trips in the red zone led to 6 points. It reminded me a lot of last year's offense. What will it take to get in the endzone? An offensive line that is sync, assertive and clear coaching, and excellent QB to receiver timing on short passing routes.
Question #3 As rough as the passing game has been, is it possible that the running game has managed to be worse? What can Penn State do to free up some room to run for Silas Redd?
The Underdogs: Throw the ball effectively.
Rowlff Dogg: It all starts with the offensive line. For a group with 4 seniors (when Pannell is in) their performance has been pathetic, yet completely expected. Secondly, there is no vertical threat. Sure we've connected on a few deep passes, but do you think a team with a pulse is scared of our QBs hitting our WRs deep? Heck no. Our WRs aren't physical enough to get off jams and thus tight coverage is enough to nullify our deep patterns. So, why wouldn't the remaining teams stick 8 guys in the box and dare us to beat them with the pass? It's not like our stubborn coaches are actually going to adjust to the defensive tendencies anyhow.
J Schnauzer: See #2
Question #4 Even with the random drops, Derek Moye has been a fantastic wide receiver. Where does he rate amongst Williams, Butler, Norwood, and Bryant and Tony Johnson on your all-decade list?
The Underdogs: Fifth, only above Tony Johnson
Rowlff Dogg: Ask Rob Bolden that question, I'm sure he'd get a chuckle out of it. When Matt McGloin is in there, Moye is all-world.
On that list, I can only put Moye ahead of Tony Johnson. Bryant was a 1st round draft pick. Both Butler and Williams have better bodies of work. Norwood was always my favorite because he was tiny but never shied away from contact.
Not one of those guys belongs in the same paragraph as Bobby Engram. Hence my spacing.
J Schnauzer: Isn't this a new decade? Moye is great, but he's not memorable yet. He's had too many dropsies to get above anyone on that list. Except Tony of course. He's not that dropsy.
Question #5 Prediction?
The Underdogs: 13-12.
Rowlff Dogg: Iowa 24-12. Same coaches = same results. JoePa has drained me of all optimism. Until this team shows some life, I simply can't envision success against a real opponent. On the bright side, the weather looks awesome! We will have fun no matter what happens, and that's very frustrating to type. The game should be life-or-death, but sadly, it is not.
J Schnauzer: 7-6 Penn State. Two safeties and a field goal put PSU over the top.