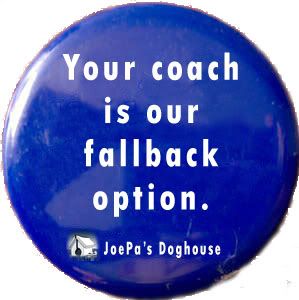 Oh no. This week, we combine two things Penn State is not particularly good at: night games and road games.
However, we are quite good at beating those pesky Wildcats dressed in purple.
Our favorite Purple People Eater, Adam from Black Shoe Diaries passed out the questions yet again. So be sure to hit up BSD later this week for a "greatest hits" of sorts. In the meantime, check out what these wildcatters are saying:
William World News
Nittany Whiteout
Nittany Lions Den
The 50-Yard Lion
Follow the jump for some night game shenanigans…
Question #1 The "Bend-But-Don't-Break" defense is supposed to prevent the big play and force the opposition to put together a long, mistake-free drive if it wants to score. Last week against Purdue, the Nittany Lion defense did the opposite, giving up multiple plays of 20 yards or more while forcing drive killing turnovers. What was the reason for that difference - a shift in defensive philosophy or just uncharacteristic breakdowns?
The Underdogs: First, I have to defer to JSchnauzer on the offensive side of the ball. When we had the ball with a chance to go up two scores in the 4th, we needed a dose of Joe, the guy who has won more bowl games than any other human being to ever roam the earth (even Hay-zeus!), and we got a double dose of Jay. Going for the kill shot, with the toe on the trigger. Nevermind where it's aimed. We've got a shotgun and it's gonna get fired dammit.
As for the defensive side of the ball, early on I predicted Purdue would have no luck with the traps and misdirections they were running after Gerald Hodges knifed through the onrushing lineman to hit the ball carrier for no gain. My thought process was that Hodges was too quick in space for linemen to deal with him. But Purdue was persistent and you have to give them credit. Traps and misdirection from the running game all-game long. They used the aggressiveness of our D-Line against us. And to add insult to injury our DEs were all too happy to oblige, rushing upfield, leaving gaping holes underneath, and Purdue's OL against our linebackers, who are largely anonymous outside of Hodges.
And the last point (and this goes towards answering #4), Sukay and Stupar aren't playing as physically as is required of their positions. Sukay is too often found going for the ball, but dangnabbit if those receivers, running their routes, don't undercut the pass so perfectly thrown at Sukay. It should be noted that where they are catching the ball would make for an ideal collision point for separating the ball from the man.
Rowlff Dogg: I can't answer any better than my cohorts, so I'll resort to being a smart aleck. Tom Bradley knew that our offense would never produce big plays, so he wanted to find another way to excite the fans. Thank you, Purdue, for showing us what an offense looks like!
J Schnauzer: There were some uncharacteristic breakdowns. I have no idea what Nick Sukay was doing on the TerBush touchdown pass O.J. Ross for example. Still, the main problem isn't defense: this game wouldn't have been in doubt if PSU didn't commit critical penalties and the offensive coaching hadn't called plays that were far more risk than reward.
It was ridiculous to call for pass on the intercepted end-zone ball when Penn State had been running effectively. The next drive had the Powell unsportsmanlike conduct penalty which essentially turned seven points into three. The next drive had an insane, works-one-percent-of-the-time reverse call which led to a fumble. It was mercifully picked up by Penn State, otherwise Purdue would have been on the PSU 25 if they'd collected the ball.
Question #2 Silas Redd has gained 100 yards or more in each of the last three games. Last year, he rushed for 131 yards and an eye popping 11.9 yards per carry against Northwestern. Do you expect a repeat performance this week?
The Underdogs: Silas is a good back. What more is there to say? He's LaDainian without the 4.3 breakaway speed. I would really, really, REALLY, like to see us trash the mindless pursuit of balanced 50/50 playcalling. I reiterate, our best chance to win out, and I'm not kidding here, is to be a poor man's LSU. Funny how poor quarterback play quickly turns into "game manager" when you put the ball in their hands only 10 times a game. I can't remember whether it was Spielman or Meyer during the Iowa game who said that "at some point poor QB play/decision-making isn't on the QB, but the playcaller who keeps putting it in their hands" (paraphrased). They were right. Predictable or not, we should be running the ball 50-60 times a game (given the RBs in the stable) and throwing it 10-15 times per game (given the QBs in the outhouse). And you know what happens, every pass becomes a surprise, which I expect will loosen up the coverages a bit.
Rowlff Dogg: There is no chance Silas Redd averages 11.9 yards per carry against Northwestern this week. I certainly expect him to eclipse 100 yards. Maybe he even surpasses the 131 yards he totaled last year. But he'll need more carries to do so.
J Schnauzer: No. Because Justin Brown will be making so many ridiculous catches this week that we will hardly run the ball at all. In all seriousness, I think this will be a high scoring game. Redd will get his 100 yards, but I expect JayPa will unnecessarily place a lot of the offense in the hands of the QBs. It might work--Northwestern is the worst pass defense we've seen this year--but I think this will be another Penn State game where the offensive playcalling will keep this closer than it should.
Question #3 Dan Persa is still Northwestern's best offensive weapon. How do we make sure we contain him?
The Underdogs: I also have not seen one snap of Northwestern this year, so I defer to my recollection of playing Persa the last few years. I expect they'll have some success 20-to-20 like usual, but will find tough sledding when the field gets smaller and we have less space to defend.
Rowlff Dogg: The same way we always "contain" somewhat above average QBs. We give them wide open tight ends. We give them quick outs. We give them quick slants. We wait and wait and wait until either a) they get greedy and make a mistake or b) their arm falls off. I expect this week will be no different.
J Schnauzer: I haven't seen any Northwestern football this year so I don't know how Persa has changed from last year. My guess is it will be frustrating. He will likely get his 300 yards, but as long as Fera punts it deep the Northwestern drives will be long enough for the defense to force enough 4th downs to contain their offense.
Question #4 In our Indiana Roundtable, we wondered whether Nate Stupar could keep up the frenetic pace set by Mike Mauti. How do you feel Stupar's played since returning to the starting lineup? Has the defense missed a beat?
The Underdogs: see: #1
Rowlff Dogg: Stupar has played quite well and it should come as no surprise. He has always been a very solid linebacker whose lack of elite talent is made up by great instincts. The biggest leap the defense has taken is their willingness to utilize Gerald Hodges' athleticism. Why the coaches insisted on sending Mauti or Stupar on delayed blitzes is beyond me. Hodges is much more disruptive because of his quickness/speed. I'll never call our vanilla scheme "aggressive," but anything that helps us put pressure on the quarterback is a good thing. If that keeps up, the defense will have stepped it up from its performance with Mauti.
J Schnauzer: -question skipped-
Question #5 Prediction?
The Underdogs: 23-20.
Rowlff Dogg: PSU 30-19. 3 field goals, one fluky defensive touchdown, and 2 (count 'em TWO!!!) offensive touchdowns.
J Schnauzer: 26-24 Northwestern. Penn State is a far better team on paper, I just feel the offensive playcalling and penalties will give Fitzgerald the breaks he needs to actually WIN a game in the 4th quarter.