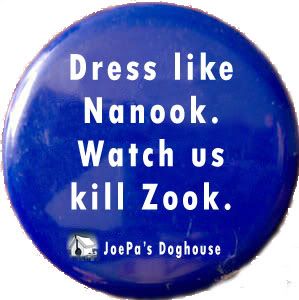 33-13. On Homecoming. Against Ron Zook. We all saw it with our own eyes, yet it's still hard to believe.
A little word of advice, Illini: payback is a female dog.
Someone who never dogs it, Adam from Black Shoe Diaries barked out the questions yet again. So be sure to hit up BSD later this week for a "greatest hits" of sorts. In the meantime, check out what these chickenheads are saying:
William World News
Nittany Whiteout
Nittany Lions Den
The 50-Yard Lion
Follow the jump for some revenge-minded dogs' opinions…
Question #1 Northwestern's offensive output against the Penn State defense was rivaled only by Alabama. What made the Wildcats so effective? What adjustments did Penn State make in the second half?
The Underdogs: Without a way to verify this with the coaches, I got the sense that they realized at some point throughout the game that NW couldn't cope well with our blitz. Rather than bring pressure every down and allow NW to make adjustments, the defensive coaches kept their trump card in the bag only for key moments. Playing a bit of rope-a-dope if you will.
Rowlff Dogg: With Dan Persa finally healthy, Northwestern is a pretty good offensive team. You have to tip your hat to their performance. But that is what Penn State defenses do against average teams with a good offense. They let them put up their numbers, wait for that big mistake, and make them pay. The Wildcats' stats are nothing to be concerned about.
J Schnauzer: For once a prediction of mine was correct: Persa would get his 300 yards but Penn State would do just enough on defense to keep the Lions in the game. The Wildcats were effective in the first half because they exploited the weaknesses that occur in the Cover Two and Penn State couldn't make the initial tackle. Credit where credit is due: I don't know if there is a more underrated corps in college football than Northwestern's wide receivers. Nine different Wildcats caught passes of eight yards or more. Jeremy Ebert stole the show with some acrobatic catches and MRob-in-purple Kain Colter will give Penn State fits in the future. Penn State must have adjusted the secondary coverage at the half because Persa often had time to throw but ended up taking a loss.
Question #2 Illinois also features a mobile quarterback and an option style attack. How helpful is it to have played Northwestern one week before facing Illinois?
The Underdogs: All that matters is that the players seem to be more of a cohesive unit, not prone to laying down vs. Illinois as they did last year. Not so much emotion as Kirk Herbstreit apparently thinks every football game comes down to, but will, desire, and pride.
Rowlff Dogg: It was very helpful. I always get a laugh when they say "so-and-so mimicked Nathan Scheelhaase in practice." That's great, but a junior walk-on is not Nathan Scheelhaase. Dan Persa and Kain Colter gave us the best practice we could have asked for. Seriously, the Big Ten schedule-makers did us huge favors this year.
J Schnauzer: Very. Take Northwestern, give them a good defense and bring them to State College and you have a rough approximation of Illinois. If Penn State can bring out their 2nd half Northwestern defense for the whole game, things should look bright.
Question #3 Welcome back, Stephfon Green. How large of a role do you see him playing for the rest of the season?
The Underdogs: I'm guessing he'll be the back to spell Redd, particularly on passing downs as he's always been a threat on screens and is our best pass blocker.
Rowlff Dogg: Green is going to have a very difficult time fitting in with his younger teammates. Who else is going to buy them beer? He was already in the doghouse, so why not continue to be the team keg?
J Schnauzer: Great to see him there, but at some point you have to recognize the shortfalls on Northwestern's defense. If he can eat up yardage against Illinois' defense in relief of Redd I will be very happy. I think he will be given an opportunity this week to become a regular in the running back rotation.
Question #4 Gerald Hodges has emerged as the playmaker he was expected to be coming out of high school. Can he continue his streak of exceptional play against the Illini?
The Underdogs: The king stay the king.
Rowlff Dogg: As long as the coaches allow him to keep blitzing, Hodges is going to make good things happen.
J Schnauzer: Abso-Poz-ilutely.
Question #5 Prediction?
The Underdogs: 34-10 Every year there seems to be one game where everything either comes together or everything falls apart and it is right there for all to see. I expect a bit of an atonement for last year's Illinois game here as our pieces seem to be assembling while Zook fiddles with the lug wrench undoing the wheels of what was thought to be a finely-detailed orange and blue Escalade going into the season. It should also be noted that this blood-letting game, never, NEVER occurs during noon kicks EST. This game is 3:30. And it has 2007 Wisconsin game written all over it.
Rowlff Dogg: PSU 22-10. Bad weather is going to keep an improving Penn State offense from blowing this game open. (I'm totally trying to jinx the weather into being nice)
J Schnauzer: Penn State 31, Illinois 17. This game is coming at the perfect time, and it sounds cliché but the Lions won't forget what happened to them last season.