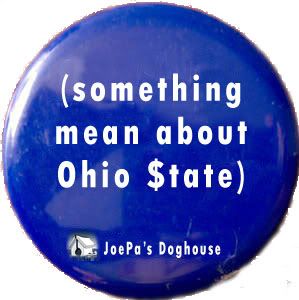 Ugh. All this drama has sapped the life out of me.
F Ohio $tate!
Someone who is always full of energy, Adam from Black Shoe Diaries barked out the questions yet again. So be sure to hit up BSD later this week for a "greatest hits" of sorts. In the meantime, check out what these guys are saying:
William World News
Nittany Whiteout
Nittany Lions Den
The 50-Yard Lion
Follow the jump to see if we're dogging it…
Question #1 Last week was extremely emotional for everyone, especially the Penn State players. Did that emotion help or hurt them against Nebraska? With a more normal week upcoming, what effect will that have on the Ohio State game?
The Underdogs: I'm not entirely sure the emotion helped or hurt the team. I suppose an argument could be made that we came out somewhat flat, but when don't we? We are what we are. A bad offense and a great defense. If anything the emotion provided the captains something to rally the team behind enabling the 4th quarter comeback bid.
As for question 1a), there is a distinct possibility in a letdown game, but not due to a hangover from the emotionally charged Nebraska game. I'm more worried about the dark clouds circling the program and the potential effect that has on the players. Hopefully, they can find motivation in playing for each other, the man next to them in the foxhole, blocking out the extracurricular circumstances.
Rowlff Dogg: If the emotion helped them, it sure had a funny way of showing it in the form of a 3 point loss. Especially considering how little the offense did prior to the their typical "Hey, we're losing in the 4th quarter? We'd better do something!"
Had we managed to pull off the win last week, I'd expect a big letdown in Columbus. Since we were so close, I think there's still a chance that the team can rally around each other and pull off a gutty win in a place that's been very difficult for us.
J Schnauzer: I was actually surprised at how normal the game appeared. The defense played well, the offense struggled, and the special teams defense couldn't buy a deep stop. I'm not happy with the result but it was comforting to see the players appearing focused on the game and themselves and not on all the craziness around them. They are stronger than most.
Question #2 Matt McGloin didn't have his best game against Nebraska. Is he the long-term solution at QB now that Bradley has been installed as the head coach?
The Underdogs: I'm not convinced there is a long-term solution at QB on the roster currently. I have yet to see it anyway. A new QB coach is this doctor's prescription. Oh look...
Rowlff Dogg: Jeepers cats, no! McGloin is nothing more than a stop-gap until Paul Jones takes over the world! Actually, we won't have our answer until we hire an actual QB coach and an actual offensive coordinator.
J Schnauzer: Long-term as in 2012? No. Long-term as in the last two to four games of the season? Absolutely. The QB competition race has sailed. Continuity and certainty is desperately needed right now for fans and players alike.
Question #3 What's the defensive game plan against Braxton Miller and the Ohio State offense on Saturday? How concerned should we be with Dan Herron?
The Underdogs: I find Herron to be an average back. Having said that, he'll probably go bonkers against us now. We'll be seeing a lot of 4-4 looks from PSU, which is our base defense anyway generally with Astorino advanced forward. This isn't a bad thing either as last week's game reminded us of Drew's strengths is attacking the line of scrimmage. Think back, count the number of plays you recall Astorino making throughout his career at or near the LOS, particularly in the flats compared to deeper in the passing game. It's not even close.
Rowlff Dogg: Keep Ohio State close enough to tantalize the fans before McGloin throws a costly pick-6. Herron doesn't do that much for me. In a game like this, I'm more afraid of Miller having a coming out party and torching us.
J Schnauzer: The defensive game plan will likely be the same as always: I think there will be some ability to hit them on the right side of their line to create some pressure on Miller. Dan Herron would scare me more if I hadn't seen the defense do a pretty effective job against Trent Richardson. I view him like Dan Persa: give him his yards, just keep him from getting points.
Question #4 What do we need to know about Luke Fickell? Anything he does differently than Jim Tressel?
The Underdogs: I'm not sure I can answer that question. I don't think Fickell is yet comfortable enough in his job to *be* him. He's trying to be Tressel and that rarely works out well.
Rowlff Dogg: We know that Luke Fickell looks like Captain Jack from The Office (Episode 02.11: "Booze Cruise").
J Schnauzer: I know he looks exceedingly like Adam Sandler and is having just as successful a year at his respective craft. My respect for him would increase immensely if he sounded like Toll Booth Willie and angrily came out of tha booooth if asked if his job was on the line. We've learned that when you take away 96% of the 2010 scoring offense from Ohio State they don't have the depth to make it up without a hitch. Fickell has been given a dirt sandwich with the suspensions, and the lack of continuity has destroyed any offensive productivity.
Question #5 Prediction?
The Underdogs: 20-10, bad guys. At least one pick six.
Rowlff Dogg: O$U 24-6. Sorry, I hate to be so pessimistic. Maybe this will jinx us to a win.
J Schnauzer: What a shame that Penn State can't reliably count on an offense as effective as Purdue's offense. Devier Posey replacing Devin Smith as the number one receiver will give the Buckeye offense enough of a pulse to keep them in field goal range all day long.
Ohio State 15, Penn State 13