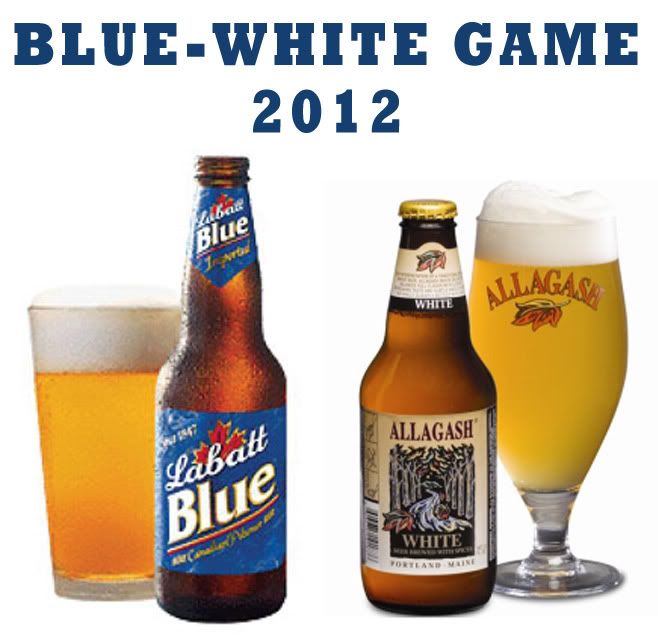 Wow, what else is there to say? My cohorts did an excellent job identifying major points of interest. Let's see if I can think of something else...
Now, let's kill this question.
What are 5 things you are interested in seeing at the Blue-White Game?
Rowlff Dogg
1. Nice weather. There will be lots of big-time recruits in attendance, plenty of which have offers to schools in nicer climates. Spring in central PA can be a cruel beast. It's hard enough competing with the $EC's cheating ways, but throw in some rainy/gray/yucky recruiting visits and the uphill battle gets even tougher. Also, consider that this is Bill O'Brien's offense's biggest showcase until September. His offense is predicated on precision and timing and is accompanied by a learning curve significantly more complex than Jay Paterno's "Baby's First Playbook." All of this means that the players need all the help they can get. Bad weather simply cannot be in the cards.
2. Gary Gilliam. BOB's reputation owes as much to Rob Gronkowski and Aaron Hernandez as it does to Tom Brady. His offense uses tight ends more in one game than Penn State did in the last decade. At 6'-6", 265lbs, Gilliam offers tantalizing size without sacrificing much athleticism. In the past this meant that we'd read practice reports of using someone like him in the red zone, only to see Devon Smith running a fade route in games. (Shakes head) In this new era, I expect to see guys like Gilliam used as weapons. This should also help our defense understand how to do something they never could under Tom Bradley: defend the tight end.
3. Man coverage. I've heard that it is legal. I've even seen other colleges use it on us. I can't wait to see what it looks like with players clad in blue and white.
4. Position changes. Curtis Drake to cornerback makes a lot of sense athletically and depth-wise. It will be interesting to see how quickly he has adapted to his new position. Bill Belton showed some promise when running the wildcat against Ohio $tate, so I'm curious to see how he is used as a running back. Early indications are that there will be a lot of catches out of the backfield which excites me as it relates to Belton. Lastly, I'm anxious to see how Dakota Royer fits into the offensive scheme. Does being able to jump out of a swimming pool translate into success as an "F" Tight End?
5. Tailgate improvements. Will the Philadelphia contingent drink Iron City after the Penguins eliminate their beloved Flyers? Will the new "tailgate surprise" be a big hit? What categories will be on the Plinko board? Can anyone beat me in washers? Will this finally be the game that Leighton Meester shows up? These questions will all be answered in 8 day's time!
Check back next week for more Blue-White Game previews!