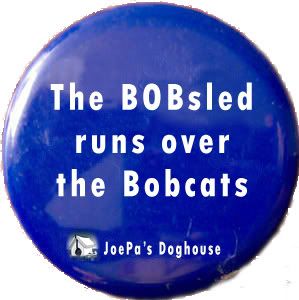 The Blue-White Roundtable makes its triumphant return this week, which can only mean one thing. At long last, college football is upon us.
Also back is our main man, Adam from Black Shoe Diaries with a 4-banger of doozies. Be sure to head on over to BSD later this week for a "greatest hits" of sorts. In the meantime, check out what these pigskin-starved football junkies are saying:
Penn State Nittany Lions Football Examiner
Nittany Whiteout
Nittany Lions Den
The 50-Yard Lion
Follow the jump to read us doggs' thoughts…
Question #1 We've been waiting for years to find out what the first season would be like without Joe Paterno roaming the sidelines. Now that the day is finally here, what are your thoughts? Have the last nine months caused your enthusiasm to change?
The Underdogs: To be perfectly honest, the last nine months have both rebooted my enthusiasm and recalibrated my expectatations. I wanted an 'out with the old in with the new' regime change as much as anybody, but certainly not the heart-ripping, mind melting, soul crushing way that it went down. /Fires blame in all directions like Tony Montana. A loss won't hurt now as long as we field a team that plays hard, but I'll support them more than ever because of what happened, not in spite of it.
Rowlff Dogg: I have been anxiously awaiting the post-Paterno era ever since the clock struck 00:00 in Ann Arbor on September 22, 2007. As I walked through the golf course back to our tailgate, my mind had changed on JoePa forever. From that moment forward, I have been salivating over the thought of a new coach. One that would bring intensity and effort to a position that lacked such attributes for so long. Obviously, things did not go down as I had envisioned they would, but my excitement for new blood has never wavered.
J Schnauzer: No, it's just like I imagined it--only with free transfers gutting key components of this team, scholarship reductions, no bowl games and one official win since the Clinton administration. Honestly, I've felt like this team has been playing with one arm tied behind its back since 2006--the last nine months have only extended the feeling that we are watching a team that can't meet its potential due to self-imposed roadblocks.
Question #2 Ohio head coach Frank Solich has visited Beaver Stadium once before and came away with a lopsided loss. What are your memories of the 2002 game versus Nebraska?
The Underdogs: A bottle of whiskey. Tailgating under the shadow of the Beav. Talking with lots of Nebraska fans and arguing over 1994, amicably of course. The only point they seemed to buy (which played right into their confidence? arrogance? going into a game between national title runner-up and a 3-8 PSU team) was that in 1994 our team had peaked and that Nebraska didn't peak until a year later in 1995. Then I remember falling down whilst walking twice through the tailgates and waking up the next day with bloody knees, torn jeans, and some vague recollection of a Richie Gardner Pick 6 and that we just might've possibly, just maybe might've won. Roll Tide.
Rowlff Dogg: What stands out most is Rich Gardner's pick-6. In all my years sitting in the student section, I had never heard a bigger roar than that explosion. It was also one of only 3 times since the turn of the century that I thought to myself, "Wow, these guys could win a national title." Going forward, I expect to think that with more regularity.
J Schnauzer: I was struck by the offensive firepower on this team and thinking it could give the 1994 side a run for its money. I remember thinking Zack Mills was a legitimate Heisman Trophy contender. I thought that if one of the running backs could step up Penn State could contend for a national title. None of it came to materialize, aside from Larry Johnson, Jr. running like a man possessed at the end of the season.
Question #3 This Ohio University team is favored to win the Mid-American Conference. How big of an upset threat is this team? How concerned should Penn Staters be?
The Underdogs: We can't possibly go into any game with expectations of a certain victory. Not when one injury here or there can drive a chasm through the depth chart. I still think there is a lot of talent on this team and they can do some damage in this schedule. Much moreso than anybody gives them credit.
Rowlff Dogg: From a national perspective, the most overlooked aspect of Penn State's coaching turnover is the automatic upgrades to many on-field components. There will be schematic implementations/updates/modernizations, and a general sense of "not-being-as-dumb-as-the-previous-staff-was" with so many personnel and strategic decisions. Combine these instant improvements with a ferociously hungry us-against-the-world roster and the Bobcats are walking into a buzzsaw.
J Schnauzer: I'm optimistic and I think PSU will win big. This is an ideal game for Penn State--there is no downside for Penn State provided the Nittany Lions play hard. For the first time in decades a coaching staff has no idea how to gameplan against Penn State. There's no viable film for Frank Solich to review. Ohio has to deal with so many more unknowns than Penn State AND Solich has to contend with the outsized expectations of his MAC team. I think Nittany Lions fans shouldn't be concerned if they keep things in perspective. It's only a football game. For once, let's just have fun.
Question #4 Prediction?
The Underdogs: 27-13 good guys. Or are we the bad guys now?
Rowlff Dogg: It will be a 33-13 victory for the guys with the blue ribbons on their helmets. Pellagate will pledge the consumption of 1 Pabst Blue Ribbon for every point scored by the Nittany Lions.
J Schnauzer: Penn State 45, Ohio 17. Bobcats will keep it close in the first half, but Bob's Cats will roll in the third.