Never before has predicting Penn State's football season been such a daunting task.  In the last decade under Joe Paterno, it was simple.  Find the teams ranked ahead of us and predict a loss.  Chalk up the teams ranked below us as a win.  If a team was in Penn State's general ranking vicinity named Purdue, Michigan State, or Illinois, call it a victory.  If their name was Iowa, Wisconsin, or Michigan, call it a loss.
There were other surefire tells just by looking over the roster. Is there a defensive end who can negate the vanilla defense's lack of blitzing and create turnovers on his own?  If you have a Maybin, Hali, or Haynes, chances are it'll be a 10 win season.  Is the offensive line rebuilding (again)? If so, you will max out at 8-9 wins.
What do you do when that blueprint is blown up by roster defections and a coaching overhaul?  You look at the football program for what the NCAA has made it over the next four years: a walker.
Best Case Scenario: Rick Grimes

You wake up from your coma to find yourself in a horrible situation.  No one is around.  Once you gain some strength and have your wits about you, you set out to find someone.  That first "someone" you see is a zombie.  What the heck is going on here?
Like Rick, Penn State will need a little bit of help getting its feet underneath them.  Against Ohio, they will come out of the tunnel with boundless enthusiasm and energy.  However, they cannot play with reckless abandon.  Ohio is a good test, but it will take a level head and fundamental execution to beat them.  Penn State cannot rely on talent alone.
What the remainder of the non-conference schedule lacks in sex appeal, it makes up for in diversity and challenge.  Virginia, Navy, and Temple all offer different looks that will require Penn State to adapt to its new schemes much faster than previous years' schedules.  It is not unrealistic to think that the Nittany Lions can navigate this with a 4-0 record.  If they do, it will work wonders for their confidence heading into the league slate.
The Big Ten is trending upward, but it is still not to the level of that league down south that treats football like a religion.  Penn State's starters are good enough to keep it in any game, particularly the defensive front seven.  Having an actual gameplan that is designed to attack opponents' weaknesses will be a tremendous advantage that has not been enjoyed around these parts since the 1980s.  As the offense progressively gains more confidence, this team will become dangerous.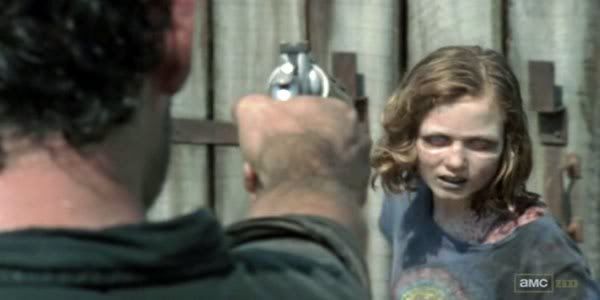 Then along comes the big, bad Buckeyes led by sleaze king Urban Meyer.  Ohio State represents Penn State's "Sophia Moment."  Will they man up like Rick and take care of business?  Or will they crumble under the pressure of Hershel's strict rules?
After a dramatic defining moment, the schedule actually gets harder.  Empowered by previous performance, Penn State rises to all challenges.  Even though their farm was burned down, the remaining warriors are now more stronger than ever.  Bill O'Brien's message is loud and clear: "if you didn't believe in me before, what do you have to say now?"  There are more obstacles to overcome.  The odds are still against him.  But this is the dawn of a new day.  This is the beginning of the "Rick-tatorship."
Rick's 2012 Penn State record:  12-0
Worst Case Scenario:  Shane Walsh

The world around you has gone to hell.  There is no law.  There is no sense of normalcy.  The only people you care about who are alive used to belong to your best friend.  Of course, that was back when the world existed.  Now it is your job to make things right.
At first, Penn State uses the chip on its shoulder to its advantage.  They play with passion, high energy, and anger.  But their aggressiveness overtakes discipline and leads to an Ohio touchdown.  More anger over their mental lapse causes more mistakes as players try to be too perfect.  The snowball effect results in a sloppy home loss.  Doubt abounds.
Did Bill O'Brien pull the wrong strings?  Was it a mistake to have his team too fired up?
Multiple attempts to calm the squad down produce mixed results.  When they're on, the offense is unstoppable and the defense is tenacious.  When something is off, the deck of cards collapse and the casualties pile up in the form of unthinkable losses.
Something has to change.  But is it too late?
If playing too high (insert Michigan joke here) is a problem for the young Nittany Lions, then the revenge-minded nature of the Ohio State game is not going to be the turning point.  Instead, the focus of all energies will be the two-headed monster of Nebraska and Wisconsin.  We have already ruined our season; let's take down someone else with us!


Shane walks Nebraska out beyond the trees to an open field.  The rising fog creates an eerie atmosphere that is amplified by the growing tension.  Blows are exchanged, each one escalating the battle to a fever pitch.  Nebraska makes a crucial mistake late in the ball game, but Penn State goes for the kill too quickly and it backfires.  The season feels over.
As Penn State fans take comfort in each others' arms, the mantra of "only 3 more years" becomes the rallying cry.  Lo and behold, a weathered Wisconsin team comes into Happy Valley and staggers around a bit.  There is one last chance to put an exclamation point on the season after all.  And then –BOOM- just like that, you're killed.  Of all the people holding the gun, it has to be the fresh-faced kid that you coveted from the beginning.  On this day, Danny was the better O'Brien.
Shane is long gone.  Some say that the survivors' chances are that much worse without him.
Shane's 2012 Penn State record:  3-9  (wins over Navy, Temple, Indiana)
Somewhere In Between Scenario: Daryl Dixon

Perhaps no one is better suited to handle the apocalypse than Daryl.  His survival skills are second to none.  He is a sharpshooter with the bow.  He can expertly adapt to his surroundings whether alone or in a group setting.  Not even the loss of his brother dulls his proficiency for taking out walkers.  In short, he was made for this hellish situation.
Like Daryl, Bill O'Brien has been thrust into a demanding situation.  He must trust his instincts and all that he has learned along the way if he plans on coming out the other side.  Penn State also has some help on its side.  The schedule will be tough to navigate, but there is no invincible force standing in the way.  The remaining cast of characters are a talented bunch, albeit more diminished numbers-wise than one would like.  If O'Brien can implement a system that takes advantage of each player's strengths, it will already be an improvement over previous leadership.
In the walker-filled world, there is no time to rest on your laurels.  Penn State faces the same challenge for the next couple of years.  Depleted numbers means that it is vital to get younger players experience should a starter go down.  There can no longer be wasted 3rd and 4th quarters.  Every play's worth of experience counts.  Even more so since the playbooks have gone from 5 pages of crayon drawings to sophisticated NFL-tested stratagem.
It is impossible to fathom the brotherhood forged in Penn State's locker room.  These players have each others' backs.  Such camaraderie will certainly manifest itself on when the going gets tough on the gridiron.  No matter what they face on the football field, it will be peanuts compared to what they have already been through.
When the group was fractured, Daryl knew when to back off.  He never inserted himself in the Rick-Shane battle.  He was also the most diligent and thorough volunteer in the search for Sophia.  His keeps a level-headed objectivity while having his heart in the right place.  Bill O'Brien knows what is in front of him.  He realizes that the past cannot be changed.  He has done and said all the right things.  In the very short time that we have known him, O'Brien already feels like a "Penn Stater."
Daryl knows that now is not his time.  He had no problems playing by Rick's rules.  Instead, he observes, learns, and hones his own craft because he knows that one day he will have his opportunity to shine.  When he does, watch out world.  There's a new sheriff in town!
Daryl's 2012 Penn State record:  7-5  (losses to Virginia, Purdue, Ohio State, Nebraska, Wisconsin)
What does all this mean?
In the post-sanction apocalypse that Penn State now resides, the sledding will be tough.  The team needs a strong leader to keep it together and focused on being the best they can be.  Bill O'Brien appears to be the perfect man for this impossible task.  What he accomplishes this year will serve as a foundation for the next three years.  It will add fuel to Penn State's recruiting pitch with tangible results of player development.  Most importantly, it will strengthen the bond of the players the NCAA so desperately wants to be poached by other teams.
Starting Saturday, the Nittany Lion football team will do something that the spineless Rodney Erickson, the corrupt Board of Trustees, and the worthless PR firms all failed to do.   This season, win or lose, the young men who don the blue and white will make us all proud of The Pennsylvania State University once again.
Enjoy this post? Follow me on Twitter for instant updates @RowlffDogg