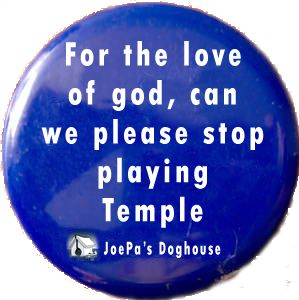 Major congratulations are in order for the loyal Nittany Lion football players and to Bill O'Brien for his first head coaching win!
After a fun Saturday of tailgating and footballing to the backdrop of absolutely perfect weather, next up is…Temple. Yuck.
Someone who never elicits a "yuck," good ol Adam from Black Shoe Diaries has some more questions this week. Be sure to head on over to BSD later this week for a "greatest hits" of sorts. In the meantime, check out what these appreciative United State citizens are saying:
Nittany Lions Den
Black Shoe Diaries
The 50-Yard Lion
Follow the jump to read us doggs' thoughts…
Question #1 Ted Roof's defense almost pitched a shut out this week against the Midshipmen. Were you surprised by how well they defended the triple option?
The Underdogs: Let's see. The answer to this question can probably be found in last week's roundtable. I won't answer for the lazy, but instead for those afflicted with carpal tunnel and unable to click over to last week's roundtable where I said (paraphrased), "Navy will move the ball, but our strength and athleticism up front would force Navy into 3rd and longs. All we had to do was one 3rd and long per drive to stop their offense, though they'll be able to get their yards." No, not surprised.
Rowlff Dogg: Although my score prediction had Penn State giving up 17 points, I was not surprised at all by the stellar defensive performance. No opponent has a smaller offensive line than Navy and that played right into the hands of our strong defensive line. The interior penetration messed up plenty of plays and our ends and linebackers were quick to get to the edges. Add to that Navy's inability to pass vertically and our beleaguered secondary had a much needed relatively easy day. In short, despite its different offensive scheme, Navy was just what the doctor ordered for a confidence-inspiring win.
J Schnauzer: This isn't the Navy of the past few years. A triple-option is best negated with a patient yet fast lateral defense--something Penn State has become very effective at containing in the past decade. It was very promising, but the unique offense of Navy doesn't necessarily mean it will translate into a top-notch PSU defense for the remainder of the year.
Question #2 We've gotten to see this team three times this year. What improvements have you seen? Have we taken a step back anywhere? What specifically will you look to see improvement in this week against Temple?
The Underdogs: While it appears on the surface that we have improved, from a loss, to a should've been win, to a win, it is possible to say that our competition has gotten progressively worse, with Ohio being the best of the schedule to date, thus inducing the illusion of improvement. If you haven't seen what happened to UVa last week, I suggest you take a look behind curtain number 1 (NSFW): http://espn.go.com/ncf/recap?gameId=322590059
We'll have to wait to see what is behind curtain number 2, because the red snapper doesn't seem terribly appealing. We may be disappointed, but as long as you set your expectations low and alcohol supply high, we'll have a good time.
Rowlff Dogg: This team continues to improve on a weekly basis in almost every facet of the game. Because of the youth and inexperience of the players thrust into starting roles, it is hard to determine on a weekly basis if anything in particular took a step back. Naturally, there will be growing pains, especially with a new playbook to learn.
Offensively, I try to focus on how the offensive line picks up blitzes, the role of the various tight ends, and how the young wide receivers run their routes and recognize McGloin's audibles. Defensively, I smile at the blitzes we bring and pay special attention to the secondary. All of this is done at home on the DVR. When I'm at the game, I allow myself the pleasure of watching the defensive front 7 wreak havoc.
As for this week, I need to see improved special teams. The opponents are only going to get tougher and it is imperative that we have a kicker and a punter we can depend on in a tight game.
J Schnauzer: I think it's fair to compare the 2011 team after three games with the current team after three. The offense is much better, dragged from the depths of chaos despite a number of running backs getting injured or transferring to teams that lost to Stanford. This team will begin to establish its own identity and continue to improve on all phases of the game, particularly the return game (it can't get much worse).
Question #3 Temple's been dangerously close to upsetting Penn State in recent memory. What will Steve Addazio do to attack this Nittany Lions team? How different is this team from last year?
The Underdogs: Maryland is a hideous offensive football team (they put the "offensive" in offensive) and they coasted to an easy victory over Temple (the way one might coast down a mountain bike course with high degree of difficulty without a bike) despite a near catastrophic second half meltdown. I expect this Temple team to be a near clone of last years in that they can't pass, but are worse running the ball (which we bottled after the first drive). The real difference in this year's game from last year's is the two guys calling the offensive plays for PSU who also happens to be the same guy coaching the QBs. If I remember last year's Temple game we had all sorts of issues with zone and delayed blitzes (surprise!), which overloaded certain sides of the line and the OL failed to slide protections adequately. Hopefully, there will be some improvement from the UVa game as I'm throwing out Navy as an outlier.
Rowlff Dogg: Whenever the words "Temple" and "attack" are in the same paragraph, I assume we're talking about their campus. Since the game will be played in Beaver Stadium, I feel a lot better, both personally and for the safety of the football team.
The blueprint for beating Penn State has to start with attacking our secondary. Ohio's execution worked so well because the quick passes negated any type of pass rush. But because Temple is Temple, I don't expect them to be able to have the level of success needed for a victory.
Forgive me for being blunt, but Temple is never going to be different. As long as we have an unqualified, lazy AD and Temple is willing to take a 2-for-1 deal, they will always remain the most boring, unnecessary opponent on our schedule.
J Schnauzer: It's the annual "is this Temple's year" question. Our Traditional In-State Rival Temple will not come into Beaver Stadium and put a scare into this team. The offense is performing too well and the defense is starting to adapt to the Roof system. I think it will look like the Penn State-OTISR Temple scorelines of old.
Question #4 Prediction?
The Underdogs: I choose what is behind curtain number 2 in hopes of some OL improvement as BOB goes boom or bust and doesn't attempt a single kick, goes for it on 4th inside the 50 and for 2 after each touchdown, and tries to insert himself as a punter. Somehow that will equal a 26-13 win.
Rowlff Dogg: Penn State 31, Temple 14. Afterwards, Dave Joyner announces a 40-game series to be played over the next 10 years. No more non-conference games. It's Temple Forever!!!!!
J Schnauzer: Penn State 38, Temple 19