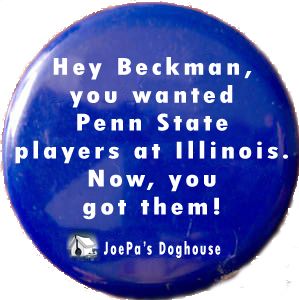 Well look who it is. If it isn't those culture vulture poaching coaches of Illinois. Hey Coach Beckman, you could not have sent a more clear indication to your current team that they're not good enough than by having your coaches camped out in State College.
Here's to hoping Bill O'Brien makes the 2005 point margin look merciful.
Someone who is never "Ill-annoying," Adam from Black Shoe Diaries has some more questions this week. Be sure to head on over to BSD later this week for a "greatest hits" of sorts. In the meantime, check out what these folks are saying:
Nittany Lions Den
Black Shoe Diaries
The 50-Yard Lion
Follow the jump to read us doggs' thoughts…
Question #1 Our ground attack finally got moving this week by using two sturdy power backs, Michael Zordich and Zach Zwinak. Is the power running game a better fit for this offense than Bill Belton? How much of a difference can Belton make when he returns?
The Underdogs:
We need him in the rotation as Belton is the only legitimate big play-slash-receiving threat out of the backfield. Otherwise, we're making it difficult on ourselves having to churn out 15- and 17-play drives with 7 first downs inching the ball down the field, which is more of an NFL trait. In college, you need to bust big plays. Though, Belton must learn to hold onto the ball better if he's to see the field.
Rowlff Dogg: Penn State's depth at running back is a tremendous luxury to have. Anything that gives Bill O'Brien more offensive options is a huge plus. Belton brings the home run threat that none of the other backs possess. As the offense continues to improve, there will be more ways to get playmakers the ball in space. I love flashing the Zoltan "Z" every time Zordich or Zwinak touch the ball, but I can't wait to see how a healthy Belton improves the offense.
J Schnauzer: I think the running game is still a work in progress. Belton was the starter for a reason, and variety in the running game will only aid in establishing the diverse attack that O'Brien needs to put together a creative attack.
Question #2 Mike Hull seems to be coming into his own, and Ted Roof has apparently created a special "Road Runner" package to take advantage of his unique speed. What kind of role do you see him playing the rest of the season in this defense?
The Underdogs: I believe you've answered your own question. Any team has to rotate players to some extent, to keep them fresh while blooding youngsters into the system. With even more limited depth (due to you know why) it's all that much more important for PSU to rotate and young players to step up. Cynically, however it is also important to get the prime transfer targets (highly rated recruits just below the top line on the depth chart) to get time and keep them happy.
Rowlff Dogg: Looney Tunes has made it extremely clear that the role of the Roadrunner is to out-run and frustrate Wile E. Coyote. I think Hull's objective is quite similar: use your speed to frustrate the offense. I love that Roof is looking for unique ways to protect the vulnerable secondary by doing whatever it takes to get pressure on the quarterback.
J Schnauzer: Doesn't this question provide its own answer? I see Roof crafting specific packages to take advantage of Hull's unique speed.
Question #3 We all know the stories about how the Illinois coaches commandeering State College and lingering outside of players' apartments in the hours after the NCAA sanctions were issued. Has this game been circled on the calendar for the Coach O'Brien and his staff? Will those feelings have an impact on this game?
The Underdogs: I guarantee the coaches won't say anything publicly nor will they likely alter their typical weekly routine as football is every bit as much about routine and repetition as it is about Xs and Os and Jimmy's and Joe's. With that said, what did the Illinois coaches accomplish besides wasting their own time and money while being publicly shamed as "culture vultures." That they pulled not a single meaningful transfer was enough of a victory for a private smirk from the PSU staff already. If there is anything different, it might be the way they get a little bit more motivation out of the players who were clearly bothered the most by their routine being interrupted by coaches and campfires outside their dorms.
Rowlff Dogg: Before the season started, O'Brien circled this game in red marker. Then he drew a skull and crossbones beside it. While I am sure there is extra motivation to send a message this week, O'Brien's main focus will be on the continued improvement of his team. I do think that the harbored animosity might tempt O'Brien to dig a little deeper into his playbook for some stuff he hasn't shown yet. Whether that translates into more points is all predicated on keeping the team level-headed enough to simply execute and not try to kill people.
J Schnauzer: What matters most is the impact it left on the players. The players were relatively calm when the repercussions of the sanctions were being felt, but the Beckmanville camping outside player's apartments and training facilities left a nasty impression. I think the players will take it out on Illinois, but they could be burned by overpursuits, penalties, and the other sorts of things that occur when a team has bitter feelings towards the other side.
Question #4 Prediction?
The Underdogs: Illinois is pretty bad. We might be looking at yet another team PSU matches up very well against. They can't pass nor can they defend the pass having been bombed twice by high octane hurry-up style spread-passing offenses. While we're not exactly a spread team nor that high octane (more like medium octane) we have shown the ability to move the ball thru the air. Illinois will have to chew up yards and get key plays and consistency out of a QB position perhaps without such capabilities. If we continue to see good, consistent play out of McGlowin' (you can't stop his shine) while he amazingly and deftly escapes the rush, we're looking at a third straight victory. PSU wins 27-20
Rowlff Dogg: Penn State 36, Illinois 17. A few new plays/looks translate into a few more points. Also of note, I encourage everyone to abstain from drinking any Miller High Life during the game as a slight at the "Champaign" of Beers…
J Schnauzer: After a few early slip-ups, I think Penn State pulls away in the 2nd half. Penn State 38, Illinois 14.