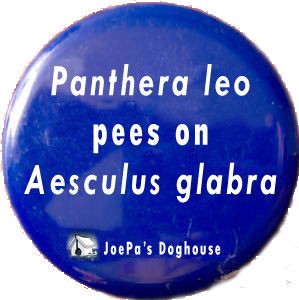 As a public service announcement, we're reminding you to hide your car stereos and lock up your tattoo parlors. If you feel threatened, run to the nearest library. No Buckeye will find you there.
That's right, it's Ohio State week. As we prepare for our lovely town to be invaded by Ohio residents (notice I didn't say OSU alumni), we at JoePa's Doghouse feel it appropriate to show our appreciation to the people to the west.
Thank you for hiring Urban Meyer. We'll do just fine with Coach O'Brien.
Someone else we tend to do fine with, Adam from Black Shoe Diaries has provided some more questions this week. Be sure to head on over to BSD later this week for a "greatest hits" of sorts. In the meantime, check out what these folks are saying:
Nittany Lions Den
Black Shoe Diaries
The 50-Yard Lion
Follow the jump to read us doggs' thoughts…
Question #1 Iowa: satisfying win, or most satisfying win?
The Underdogs: Satisfying, in that we got a monkey off our back while confirming the abilities of our new coaching staff. The game was the first where everybody else in the country was able to take notice and take PSU seriously. Look no further than Wetzel's most recent column stating PSU is still PSU and a potential powerhouse despite the bottom of the sanctions has yet to fall out. That we're playing a fun brand of football is yet another statement to recruits. It's not THE most satisfying win, in that we left quite a few points on the board, while Iowa played quite poorly, particularly James Vanderbeek, who maybe just maybe does want your life.
Rowlff Dogg: The Iowa game has taken on extra meaning because they are have had their way with Penn State (JoePa). If I told you in 1993 that we'd have a losing Big Ten record against Iowa over 20 years, you'd think I was nuts. Iowa is the symbol of our underachievement since joining a conference. In that regard, Saturday's beatdown was extremely satisfying. However to consider an Iowa win as "most satisfying" is an acknowledgment of how far JoePa and his staff let this program fall over the past decade.
J Schnauzer: Heh, I understand the gist of this question. It is a complete break from the past: an acceptance that Penn State football can be fun, exciting, aggressive, and modern and still be Penn State football. I want more of it.
Question #2 With Bill Belton back at full strength, what do you expect our rushing attack to look like the rest of the way? Will we see mostly Belton, or will we continue to put significant time into the power running game brought by Zach Zwinak?
The Underdogs: I expect it to be a game to game decision, and ultimately a fluid situation, one-part game planning, one-part hot hand. We may go into a game thinking we need a speed back and go with Belton, but if it turns out Zwinak is THE right man for the job as demonstrated on the field in any given game, we'll lean that way. This staff has shown little patience for favoritism or petty personal feelings, instead focusing strictly on performance, which is an unpredictable thing itself.
Rowlff Dogg: For Belton to be at his best, he should probably only get 15-ish carries a game. His strengths are his elusiveness and home run capability. Both of those characteristics thrive with fresh legs. Zwinak and Zordich are important components of the ground game because they punish the defense. With a much-improved offensive line beginning to wear out opponents in the 4th quarter, both of the Z's will continue to receive plenty of carries against a tired defense.
J Schnauzer: I think the running backs will still operate by committee. Each of these backs offer different looks for the defense, and with wildcat Matt McGloin scrambling for 26 yards against Iowa we've got a relative Collin Klein now. OK, maybe the last part is untrue...
Question #3 Braxton Miller appears to be available this weekend despite the rough hit he took on Saturday against Purdue. Will his level of play be affected? What can we do to contain him and the new Ohio State offense?
The Underdogs: So many speculative questions. I'll ignore the injury as THE Ohio State medical staff appears to be doing, presume him to be 100% and approach the question as if it never happened. I'm not that particularly impressed with Miller. He's good yeah, but so is Denard. I find them both to be fairly one-dimensional and therefore defensible, albeit Meyer's offense is better tailored to Miller's skillset than Michigan's devolution away from RichRod's offense. He's capable of a big play at any time, but just as consistent in his inconsistency, with a penchant for bogging down the entire offense for halves at a time.
Rowlff Dogg: I really hope that Miller starts the game because I'm sure Roofball is going to see just how healthy he is. A less-than-100% Miller is going to be tested. If he makes some early mistakes, you can bet the crowd noise and intensity of Roofball will only compound the miscues. This game is a situation where I am thrilled to have Roof because we all know Tom Bradley would just sit back in his base defense and allow Miller to look like a Heisman contender.
As far as containing the OSU offense, Penn State just needs to keep doing what they've been doing. Confuse Miller with different looks and different blitz threats. Use Hull or Hodges as a spy. Utilize the athleticism of our defensive ends to try and keep Miller off the perimeter where he can do the most damage and rely on our sure-tackling linebackers when he cuts it up the middle.
J Schnauzer: He may be a bit tentative, but I would imagine it would be challenging for him to face the Penn State defense at full strength, too. I am less concerned about Penn State's defense and their ability to contain the Buckeyes. I'm salivating at the thought of watching this methodical offense slicing through the Ohio State defense I saw last week against Purdue.
Question #4 Prediction?
The Underdogs: PSU will be THE victors. I expect a game similar to MSU-OSU, except unlike THE Michigan State university, PSU has an offense. 27-16
Rowlff Dogg: Penn State 37, Ohio State 20. Suck it, Urban.
J Schnauzer: Penn State 33, Ohio State 21..