l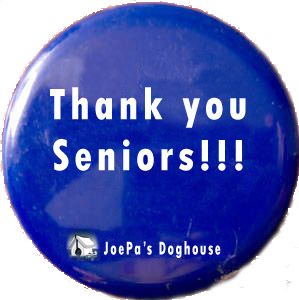 I threw this one together in the small gap of time that my holiday travel and tailgate preparations allowed.
However, The Underdogs and J Schnauzer came out guns a-blazin, so enjoy!
As always, Adam from Black Shoe Diaries has some more questions this week. Be sure to head on over to BSD later this week for a "greatest hits" of sorts. In the meantime, check out what these peeps are saying:
Victory Bell Rings
Nittany Lions Den
Black Shoe Diaries
The 50-Yard Lion
Follow the jump to read us doggs' thoughts…
Question #1 Michael Mauti. Discuss his legacy.
The Underdogs: The most important player in PSU history? No, 42 should not be retired. Not allowing anybody to wear it isn't honoring it like holding that number in similar esteem (if not greater) than 11 and 31 (and as somebody pointed out on twitter 11+31=42. Math!) Mauti may have been injured too often to really make his mark on the field, during seasons that didn't count, but he will be important forever, a martyr, like Obiwan Kenobi, stronger in death (penalty) than Darth Emmert could ever imagine. Of course, the generational nature of this analogy hinges upon the next gen of players, the Brenemans and Hackenbergs as the New Hope, the bridge from past to future. Just in time for Disney to turn the story into a made for TV movie.
Rowlff Dogg: Mike Mauti embodies everything that makes me proud to be a Penn Stater. Ten years from now, when talking about Penn State legends, the name "Mauti" will be followed with a slight pause and a bright smile before the superlatives spew out of my mouth.
J Schnauzer: A real-life tragic hero in the mold of Seneca or Geothe. Hyperbole? Perhaps, but viewed solely from the perspective of college football, he has endured more than anyone else in memory. His grace, class, and skill has shone through it all. Maybe he's not the best linebacker in Penn State history, but he may well be the greatest linebacker in Penn State history.

Question #2 The Big Ten just added two new teams this week - Maryland and Rutgers. What are your thoughts? Who are the next targets?
The Underdogs: On the surface, the B..!..G made a critical error in judgment. They have made the direct trade of providing charity ward to two feeble, decrepit university athletic programs in exchange for DC and NY/NJ television markets. With upcoming TV negotiations, the bet is that these two markets will help move the BTN to a lower (higher?), more basic cable package, thus guaranteeing it on more TVs, therefore more money for the 14 athletic programs. I'm skeptical. These are markets PSU already has a strong presence, though perhaps it's possible MD and SUNJ tip the balance. Because it makes so little sense, reaching out to indifferent TV markets while not at all "strengthening the brand," there may just be a Machiavellian aspect to the B1G's power play. There are three stable conferences. We might as well call them the alphas (B1G, SEC, and PAC) providing the gravitational pull drawing and quartering all the lesser conferences. The B1G clearly likes to be the instigator rather than react. By destabilizing the lesser conferences, they force the hand of other more desirable, wealthier schools to find stable homes. However, the two biggest fish, Texas and Notre Dame, would have to humble themselves and kiss Delaney's ring. Texas burned too many bridges within the B1G power structure and likely doesn't care much that it's in flames, except to indifferently roast some frog and jayhawk carcass while polishing their ESPN provided gold bar belt buckle. Notre Dame on the other hand remains a possibility with the B1G kneecapping the ACC Notre Dame just joined, immediately triggering the musical chairs discussion of VoTech, GaTech, and Clemson to the SEC. Comcast seems to hold all the cards in this scenario with ND's NBC deal expiring in 2015. Comcast may not be as eager to take a loss on ND football that a handful of ND alums at NBC sports were. With all that said and while it's a possibility, I expect Pitt and Syracuse to the be the final two when Notre Dame and Texas make deals with the devil (each other) to rule over the flyover bible belt.
Rowlff Dogg: The other doggs did a bang up job on this one, so I'll keep it simple.
I understand the money aspect of it. I love that we are in the most stable, lucrative conference. However, I only care about going to away games. Maryland and Rutgers may as well be Tel Aviv and Chernobyl. I have no desire to go to either place and watch Penn State play the caliber of opponent that Tim Curley routinely stuck us with in the out-of-conference schedule. Yuck.
As for the future expansion? Give me North Carolina because I'd love to check out Chapel Hill. And in the spirit of good tailgates, why not Georgia Tech? For once, we'd just be able to arrive and have the relatives do all the work.
J Schnauzer: I think there are two viable types of candidates for the Big Ten: schools that can pack an 80,000-seat stadium now (Nebraska), and schools that can conceivably pack an 80,000-seat stadium in a few years with the resources provided by the conference (Missouri). It's a stretch that Maryland can someday become a 80K locale, but if it were paired with a Florida State or Texas it would have been far more palatable. They were added with Rutgers, which makes this whole thing a joke. Adding Rutgers to get a better market presence is like dumping bicycles on a horse farm to get faster thoroughbreds. They have no relationship to the Big Ten and look like nothing more than dead weight. One positive: I look forward to when Ohio State and Rutgers announce their new rivalry trophy: The Old Oaken Camaro.
As for future targets: a good commissioner is always one step ahead of conventional thinking, and Jim Delaney has been hinting that he is continuing to look eastward at expansion targets. I think Jim Delaney surprises the NCAA establishment and adds the Universidade dos Açores (the only public university in the Azores island chain) and the University of Iceland (go runnin' Bjorks!) to the Big Twixteen in three years. Doing so will being expand the Big Ten's TV reach eastward to include the entire North Atlantic Ocean.
Question #3 Wisconsin has been a bit of an enigma this year and the quarterback situation has been hit or miss. What do you expect to see from the Badgers this week?
The Underdogs: When they lose, they lose miserable slugfests against solid teams. In fact, they haven't beaten a single decent team with the possible exception of Utah State (yes, they're 9-2, but Utah State!). We're a decent team albeit a likely tired, worn down one from attrition and everything else. Against decent teams, Wisconsin can't throw the ball. They want to drag you into a mudfight. So we have to stop the run, which won't be easy particularly without Mauti. The best way to stop the run will be to score points and force Wisconsin to play catch up. The key to the game is McGloin, another fast start, and playing without mistakes. If we get up early we can get the ball out of Montee Ball's hands and make Bucky zero dimensional.
Rowlff Dogg: I expect to see a bunch of holding penalties go unnoticed by the refs. I expect Bret Bielema to look like a brainless douchebag. I expect Montee Ball to change the pronunciation of his name 4-5 times throughout the game.
J Schnauzer: Enigmatic is exactly right. I can't get a bead on how they will play, so I'll assume they'll be the team that relies on running plays to keep them in the game. I think they will fall behind, only to charge back in the game in the final quarter.
Question #4 Prediction?
The Underdogs: Do you trust McGloin? I know he's had a great year, but Matt does have a tendency to giveth and taketh away, at particularly excruciating moments. I have more confidence in Bert and Wisconsin's ability to make this an ugly game than McGloin can control it. As much as I'd love for this to be one of those end-of-season emotional snowball blowouts, this one will come down to the wire. What would top the season better than to have Sam Ficken win it at the end 26-24?
Rowlff Dogg: Penn State 31, Wisconsin 20. Just remember, Full House fans, that Vanilla Weasels > Chocolate Badgers.
J Schnauzer: A charged up atmosphere and the capstone celebration of a season that will never be forgotten. Penn State 29, Wisconsin 28.