For far too long, Iowa has been a nuisance on Penn State's schedule. Thankfully, times they are a-changin'. With the new coaching staff comes a fresh attitude. No longer will we be afraid of those darn Hawkeyes. No longer will we drink milk and pet kittens in their pink locker rooms. No more 6-4 crap!!! Things change starting now!!!
Accordingly, this week we're going to do something different here too. We've come up with some signs that you might be an Iowa fan. See if any apply to you.
With apologies to Jeff Foxworthy, here goes....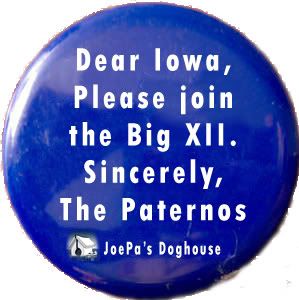 Oh no, not this team again. Yup, that's right, it's Iowa week. You know who loves this week? Kirk Ferentz and his coaching staff. Because they don't need to study film or develop a gameplan. Sigh.
Someone who always has a gameplan is good ol' Adam from Black Shoe Diaries. As always, he banged out some questions, so be sure to hit up BSD later this week for a "greatest hits" of sorts. In the meantime, check out what these Iowa haterz are saying:
William World News
Nittany Whiteout
Nittany Lions Den
The 50-Yard Lion
Follow the jump to read the opinions of some angry doggs…
Nobody wants to hear vacation stories, but I have a quick one that will make you smile.
At the main party pool area, the bartenders set up a soccer net (in the pool) and had people trying to kick a ball into the net from outside the pool.  When a new person would come up, they'd say their name and where they were from.  Eventually some dope announced he's from Columbus and his scumbag friends began to chant "O-H, I-O."  To which another larger group retorted "Cheaters, Cheaters!"  Even if that second group was from Michigan, they're still pretty cool in my book.
Oh, and for the record, here's the Big Ten representation (shirt, hat, towel, etc...) I saw:
Ohio State:  6
Iowa:  3
Illinois:  2
Michigan:  1
Penn State:  0 (unless you count me and Mrs. Rowlff Dogg) 
Conclusion:  6 people from Ohio went to Wal-Mart before the trip.  3 tubes of toothpaste went unused.  2 people bombed their Princeton interview.  And I won't make fun of the 1 Michigan alumnus because she was actually pretty cool.
Uncle Rico hair? Check.
Cheap suit? Check.
American Flag tie? Check.
Thumb in the "total quality" position? Total check.
Striking a pose? Only like a man coated in Drakkar Noir cologne should be posed.
Ms. Pac-man? Yes.
Pedobear finalist? Yes.
Iowa? Oh hell yes.
Hate Week Iowa.  It's on like Big Ten Donkey Kong.